The AN-94 Abakan (Russian: АН-94 «Абака́н»; GRAU index: 6P33) is a Russian assault rifle which uses a gas-recoil operation derived from the operation used in the TKB-059 assault rifle.
The acronym stands for Avtomat Nikonova (Rifle of Nikonova), after Gennadiy Nikonov, Model 1994. The AN-94 was chosen over many other competing firearms in a extensive trial, including the AEK-971 design by Sergey Koksharov.
It was designed and manufactured at the Izhmash state factories, as a replacement for the AK-74 assault rifle currently in use in the Russian military.
Currently, the Russian military is using the AK-74M as its standard service rifle with the AN-94 only being issued to the special forces of the Russian military, some Russian police forces, and the MVD.
In 2006, production was discontinued due to complexity and costs to produce the weapon. The decision to do this is in part due to the passing of his inventor, Gennadiy Nikonov, in 2003; and the lack of interest in the rifle for further development. Also, the company was concentrating in developing new versions of the Kalashnikov system, which resulted in the Saiga shotguns (which were developed by Nikonov) and the AK-12 assault rifle.
The Abakan Trials
Edit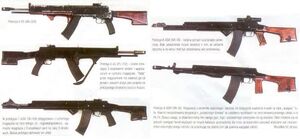 During the early 1980s, the weapons listed below were the contenders of this trial:
Design Details
Edit
The AN-94 is chambered in the same 5.45×39mm cartridge as the AK-74, and utilizes a rotating bolt to lock the action. When its bolt-carrier is driven backwards by the force of the gas from the cartridge, a pulley activates a cartridge-feeding device. This mechanism allows a much higher rate of fire than what would otherwise be possible. The magazine is also canted to the right, assisting in feeding cartridges into the unique feed mechanism.
The high cyclic rate (1800 rounds per minute) is employed in two-round bursts. These form the first two shots on fully automatic fire, with following rounds fired at 600 rds/min. This burst function is highly effective against body armor – the second round impacts at the same point as the first, enabling the penetration of armor that a conventional 5.45×39mm chambered weapon cannot.
The rear peep sight is a dramatic improvement over the standard Kalashnikov notch and post. The muzzle brake is much more effective and is less harsh on the ears than the AK-74. It is theorized that the muzzle brake (shaped like a sideways eight) is either used to shift part of the rifle's sound signature into ultrasound or facilitate in self-cleaning. Information on the true usage of the muzzle break is limited due to the relative rarity of the rifle.
External links
Edit
Ружье" 1_1998 "Эйнштейн, Чехов и Платон?
Oruzhie magazine, Pages 6/7/8, Issue No1 1998.
"Оружие" 1_1999 "Под шифром "Абакан"
"Калашников" 4_2001 "Что ждет "Абакан"?"
"Мастер-Ружье" 60_2002 "Будет ли новый автомат"
Nowa Technika Wojskowa 2002-03/04.
"Ружье" 47_2007 "Какой "Абакан" лучше?"
"Калашников" 4_2007 "Не перевелись еще "специалисты на Руси..."
"Калашников" 5_2007 "АН-94 "Абакан"-это просто"
На пути к "Абакану"
"Калашников" 6_2007 "Методом проб и ошибок"
"Калашников" 3_2008 "Разбираем "Абакан"