AMD-65
Country of origin

Hungary

Manufacturer(s)
Year(s) designed

1965

Production began

1965

Weapon type
Caliber
Action
Overall length

847 mm (34.4 in) / 648 mm (27 in)

Barrel length

317 mm (12.5 in)

Weight

3.8 kg (8. lb)

Magazine/Cylinder capacity

30 round curved magazine

Used by

Afghanistan and Hungary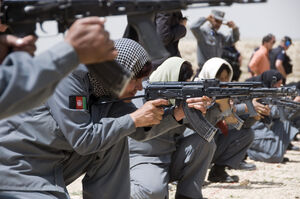 The AMD-65 or Automata Módosított Deszant 1965 is a Hungarian assault rifle that is based on the Soviet AKM assault rifle and looks similar to the AKS-74U. The AMD-65 is manufactured by Fegyver- és Gépgyár. The AMD-65 was designed in 1965 and used by the Hungarian army from 1967 until 1977, in 1977 the Hungarian army replaced the AMD-65 with the AK-63. The AMD-65 today is still being used by several countries like Afghanistan.
Ad blocker interference detected!
Wikia is a free-to-use site that makes money from advertising. We have a modified experience for viewers using ad blockers

Wikia is not accessible if you've made further modifications. Remove the custom ad blocker rule(s) and the page will load as expected.