AI Arctic Warfare
Country of origin

United Kingdom

Manufacturer(s)
Designer(s)

Accuracy International

Production began

1982

Weapon type
Caliber
Action

Bolt-Action

Overall length

46.5 inches (118 centimetres)

Barrel length

26 inches (66 centimetres)

Weight

14.3 pounds (6.5 kilograms)

Magazine/Cylinder capacity

5 or 10 round detachable box magazine

Maximum effective range

800 meters
The Arctic Warfare, known as the L96 in British service, is a bolt-action sniper rifle created by the British company Accuracy International and fielded by British and German forces. The L96 is the origin of the standard AW rifle used for large caliber rounds, such as the .338 Lapua Magnum. The British Army began its search for a replacement of the L42A1 around the 1980s. Accuracy International beat out its competitor, Parker-Hale, with its L96. Later, the Swedish began their own search for a durable heavy sniper rifle; they now use the L96, under the name PSG90. Accuracy International made some improvements on the L96 design and called it "Arctic Warfare" (named after its possibility to use in Arctic environments).
Australia's military and police version of this rifle is called the SR-98, the only difference between it and its British counterpart is its collapsible stock.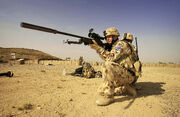 References
Edit
Ad blocker interference detected!
Wikia is a free-to-use site that makes money from advertising. We have a modified experience for viewers using ad blockers

Wikia is not accessible if you've made further modifications. Remove the custom ad blocker rule(s) and the page will load as expected.