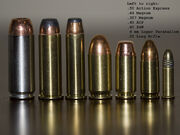 The .50 Action Express (.50 AE, 12.7x33mm) is a .50 caliber rebated-rim handgun cartridge designed specifically for the Desert Eagle. It was developed in 1988 by Evan Whildin of Action Arms.
Design details
Edit
The .50 Action Express is a rebated-rim centerfire handgun cartridge. The rim diameter is .514 inches, and it uses a large pistol primer. The SAAMI-specified maximum pressure for this cartridge is 36,000 PSI, and it uses bullets that weigh around 325 grains. Muzzle velocity for this cartridge can go up to 1800 FPS.
The cartridge overall length is 1.61 inches.