This article does not cite any references or sources. Please help improve this article by adding citations to reliable sources. Unsourced material may be challenged and removed.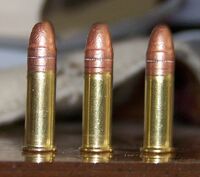 The .22 Long Rifle (.22 LR, 5.7×15.6mmR) is a small-caliber pistol and rifle cartridge.
The .22 LR has minimal recoil and relatively low noise. This makes the .22 long rifle an ideal cartridge for recreational shooting (plinking), initial firearms training, small-game hunting and pest control. It is also very good for youth shooting, as it is a very small round. The ammo is boxed from 50 rounds to 5,000 rounds, and has a very low cost per bullet. A common use of this round is inexpensive small game hunting, such as squirrels, rabbits, and opossom.
Ad blocker interference detected!
Wikia is a free-to-use site that makes money from advertising. We have a modified experience for viewers using ad blockers

Wikia is not accessible if you've made further modifications. Remove the custom ad blocker rule(s) and the page will load as expected.